Below is the post from Breitbart.
Instagram Permanently Suspends Veteran-Owned Business for Criticizing NFL Kneelers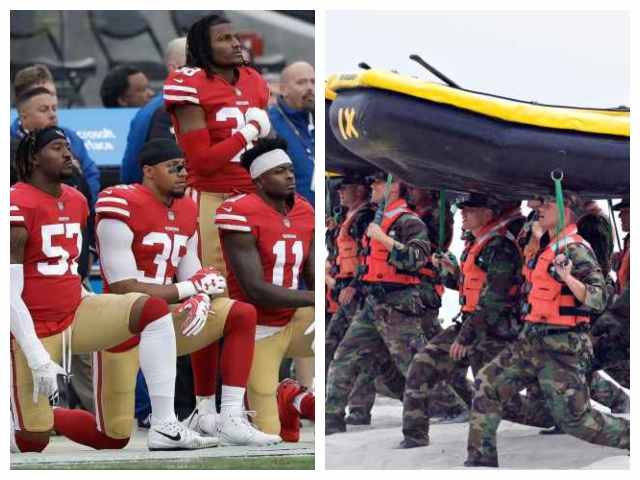 Project War Path, a clothing company owned by Navy SEALs and Army Special Forces combat veterans, has been permanently suspended from Facebook's Instagram platform for "hate speech" after criticizing NFL players who kneel during the national anthem.
After Project War Path made a post which referred to NFL players who kneel during the national anthem as "overpaid turds," Instagram blacklisted the company's account for "hate speech."
The full post includes a picture of NFL players kneeling on ground held up by soldiers — many of whom appear to be wounded or dead and surrounded by a sea of blood — and reads, "This sums it up, Veteran's defend our freedom and keep us safe. Meanwhile overpaid turds throw a leather ball around in a overpriced stadium and shit on all the men and women who have been killed defending our country. #ProjectWarPath #BoycottNFL #NFL #VFW #VeteransofForeignWars"
The same post was made on Twitter without being removed.
"Lately I have been posting about the NFL players kneeling. I was Navy SEAL for ten years, I served multiple tours in Iraq, Afghanistan, and Africa from 2001 through 2014," declared Navy SEAL veteran Tej Gill, one of Project War Path's owners, to Breitbart News. "I have lost a lot of my close friends/teammates during the war. NFL Players kneeling really hits home with me and my teammates, I think it's disgusting, an insult to all veterans, Americans, and especially families of veterans that have been killed and wounded during war."
"I tried to reinstate my account, the form I filled out said my account was permanently suspended for hate speech," he continued. "I have not heard anything back from Instagram since."
Gill went on to claim that he thinks the suspension is "part of a very aggressive censorship operation that is being conducted by Instagram, Facebook, Twitter, YouTube, and the mainstream media," and although he appealed the suspension, the Project War Path account is still suspended.
Instagram, which is owned by Facebook, has previously suspended conservatives, including British citizen journalist Tommy Robinson, author Lauren Southern, and conservative comedy group Toughen Up America.
In May, Donald Trump Jr. also accused Instagram of shadowbanning him.
---
---